Have You Signed Up for Your Free AR-15?
Written by Erich Pratt
Published: 13 December 2016
 GOA Celebrates 'Bill of Rights Day' by Giving Away an AR-15
Click on the "Enter to Win" box to enter GOA's Bill of Rights Day giveaway.  Win an AR-15 from Gun Owners of America — absolutely free.
---
Not a GOA member yet? You can join Gun Owners of America today for only $20!
Make Sure You Enter to Win Your Early Christmas Present!
Dear Friend:
Did you know that GOA is giving away an AR-15 to celebrate Bill of Rights Day on December 15?
Consider it an early Christmas present from Gun Owners of America.
You have done so much to help us during the year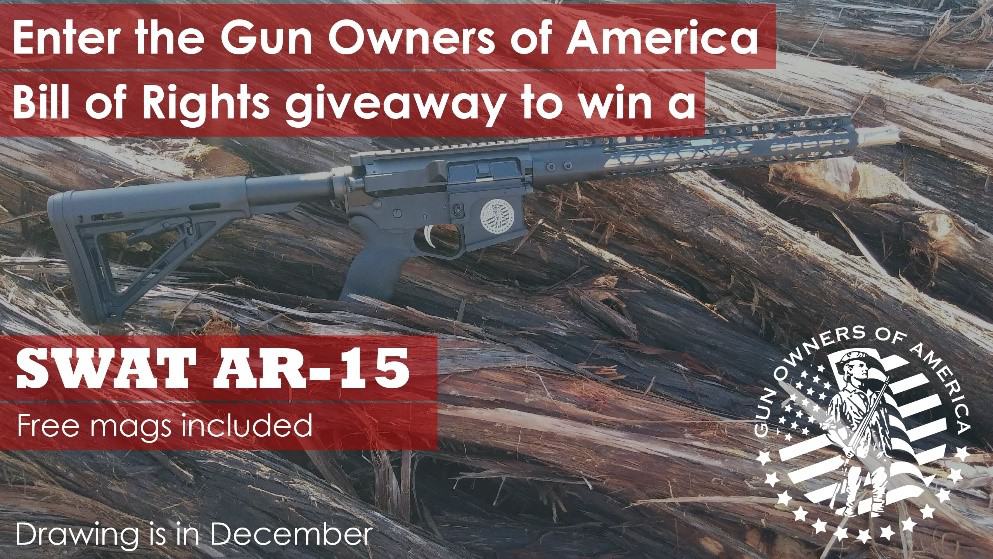 By taking action on our alerts, our massive grassroots army deluged congressional offices with an enormous number of phone calls and emails this year.
Because of you, our voice has been dramatically multiplied in Washington, DC.
That's why I want to offer this AR-15 as a THANK YOU!
I know you think that you could never win this firearm.
That's what Alex from Texas thought, too.
(See him pictured here.)
The fact is, someone has to win. Someone will win.
Why can't it be you?  
We've given away several firearms like these over the past few years. And many GOA members h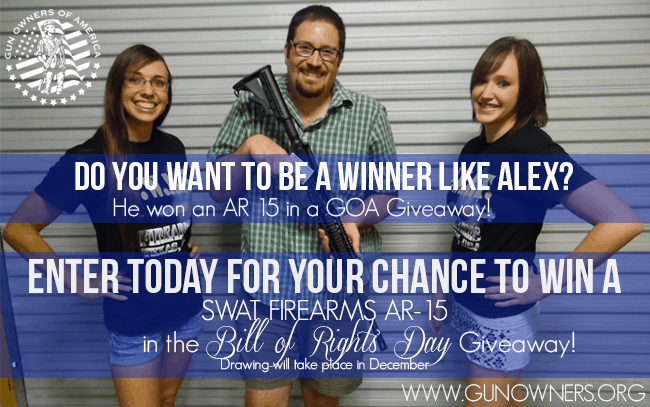 ave won handguns, shotguns and AR-15s.
Again, why can't it be you this December?
It would make a fantastic Christmas present.
I hope that you will go here to enter the Bill of Rights Day giveaway.
You only have a couple days left to enter.
Thank you again for your tremendous support of the Second Amendment — and for Gun Owners of America in particular.
In Liberty,
Erich Pratt
Executive Director
P.S. Please make sure to enter the GOA Bill of Rights Day giveaway, so you have a chance to win a free AR-15 from Gun Owners of America. It's our way of saying thank you to all our members!
Featured GOA News & Updates