--How Gun Owners Frustrated Obama's Gun Control Agenda
"The group's Executive Director Larry Pratt saw the West Virginia Democrat working behind the scenes, pushing gun control after Sandy Hook. He called him out and asked other gun rights groups, including the NRA, to do the same." -- Freedom Outpost, January 19, 2015
Two Presidents paid quite a compliment to Gun Owners of America and its members last year.  For starters, President Obama said:
People ask me what I'm proudest of and what are my biggest frustrations as President. My biggest frustration is that this society hasn't been willing to take some basic steps to keep guns out of the hands of people who can do damage. (The White House, June 10, 2014)
So in other words, he's frustrated that Congress rejected every single one of his gun control proposals over the past couple of years.
GOA members should accept this compliment and pat themselves on the back.
After all, it was the liberal media that blamed Gun Owners of America and its activists for the defeat of the President's gun control agenda. 
For example, one progressive site lamented:
Democrats Blame "Gun Owners of America" for Gun Control Setback. -- TPM, April 8, 2013
And then there was the Public Broadcasting Service:
PBS's new special ... credits GOA with dragging Senator Joe Manchin (D-WV) into the light when he tried to cloak his 2013 gun control push with words like "compromise" and "loopholes." -- Breitbart, January 8, 2015
Even NPR weighed in and complimented the power of GOA's grassroots:
Gun Owners of America showed with one email alert that it could help flood the phone lines on Capitol Hill days before the Senate vote. -- National Public Radio, December 26, 2013
That the anti-gun Left has singled out GOA as the biggest obstacle to more gun control is a great compliment that all gun owners should accept proudly.
But it's GOA's grassroots activists who should really be proud, because without you, we could never have accomplished all that we have done in defense of America's gun rights.  
Gun grabbers attack GOA
It's been said that the price of success is a target on your back.  And this has certainly been the case in 2014:
(1) Former Mayor Michael Bloomberg produced a video -- through one of his anti-gun subsidiaries -- personally ridiculing GOA for wanting to arm teachers and principals in schools.
(2) New York Democrat Rep. Carolyn Maloney called for the Capitol Hill police to investigate GOA's Larry Pratt for saying that the Second Amendment is for "restraining tyrants."
(3) Anti-gun groups like the Coalition to Stop Gun Violence have viciously attacked pro-gun candidates -- assailing them simply because they received endorsements from GOA's Political Victory Fund.
Winston Churchill once said: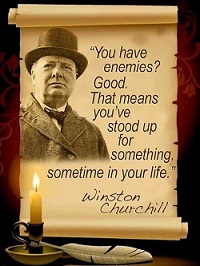 You have enemies?  Good.  That means that you've stood up for something, sometime in your life.
Yes, it's the price that comes from success.  But it's been well worth the effort, as we finished 2014 with no new gun control at the federal level -- and even greater firearms freedoms at the state level.
Failure to pass gun control "weighs heavily" on Holder
In October, The Hill reported that Attorney General Eric Holder listed the Obama administration's "inability to enact more stringent gun control regulations" as among the biggest failures of his tenure, saying the matter "weighs heavily" on his mind.
It's certainly not for lack of trying.  There was Operation Fast & Furious ... Operation Choke Point ... and ATF's efforts to illegally expand its gun registry.  
On this latter point, GOA forced the ATF to stop illegally registering long guns throughout the country. And in the courts, Gun Owners Foundation won three cases before the Supreme Court.  (See p. 7 of GOA's December newsletter.)
In the U.S. Senate, GOA frustrated Harry Reid's efforts to reelect his cronies in the November elections.  To that end, GOA was the ONLY national gun group working to successfully kill the "Harry Reid Preservation Act" in 2014 -- a nothing-burger bill designed to make many anti-gun Democrats appear pro-gun right before the midterm elections.
At the state level, Idaho Gov. Butch Otter signed a GOA-supported bill which prohibits the enforcement of federal gun control laws within the state.  
And GOA and its members successfully encouraged New Jersey Gov. Chris Christie to pressure a local prosecutor to drop charges against Shaneen Allen, a Philadelphia nurse who had been arrested for having a gun in her car in New Jersey.
Bill Clinton upset with GOA's work in killing gun control
Former President Bill Clinton disparagingly complimented the work of national pro-gun groups last year when he accused us of trying to "terrify people" into thinking the government is infringing their gun rights.
He told MSNBC's Joe Scarborough that,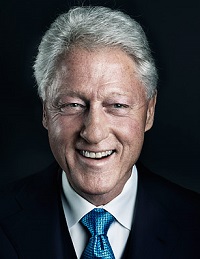 Gun Owners of America will run an ad against you or billboard against you and say you're trying to take their guns away. (June 2014)
Well, he's right.  And thankfully, GOA was able to send a lot of those gun-grabbing politicians into retirement during last year's elections.
Now, we've got a Congress that is much more favorable to our gun rights -- although the battle for our gun rights will still require tremendous effort.  
The Obama administration wants to get the UN Arms Trade Treaty ratified.  And it will use future shootings to expand the number of gun-free zones where good Americans will be kept from possessing firearms.
But GOA will oppose these efforts and work to expand our opportunities for concealed carry. (Stay tuned for upcoming alerts on legislation to be introduced by Indiana Rep. Marlin Stutzman.)
It may seem improbable, considering who's in the White House.  But long-time GOA members will remember that we actually successfully repealed the National Parks gun ban during the first year of Obama's presidency.
And that was done with a Democrat House and Senate!
The repeal of gun control won't be easy, but it can be done.  And with your continued support, we will continue regaining lost ground, as we defend our Second Amendment rights together.
ACTION:
1. Please forward this alert to your pro-gun family and friends and encourage them to join GOA's low-volume email alert system.  The more gun owners we have with us, the louder voice we have in Congress.
2. Make sure that you've renewed your GOA membership for 2015.  You can sign up for GOA membership for $20 -- for less than it costs to buy an average box of ammunition!
As always, we thank you for all your activism and support.